Logging In/Password Reset
Login and password information for students and parents.
Parent Campus Portal Login/Password
Parents, in order to reset your Campus Portal password, you must have a security email address in your Campus Portal account.
If you need assistance logging into your Parent Campus Portal Account or entering a security email in the Portal, contact your school Portal Liaison or call 702-799-PORT (7678).
Student Login/Password
The majority of CCSD systems that students use require the same login ID and password.
Students – First time logging in?
If this is the initial time using your account, you will first need to visit myaccount.ccsd.net and "Claim your account" and set your new password.
Your Parent should be able to access your CCSD Standard User ID on their Campus Portal Account.
The CCSD Standard User ID is a combination of your first name and a random number assigned to you. An example for John Doe might be: John.123456@nv.ccsd.net
To locate a student email address and username parents may:
Log in to the Campus Parent Portal
Select More from the menu on the left side of the screen (desktop version)
Select CCSD Standard Accounts from the menu in the center panel of the screen. (desktop version)
On a mobile device the location of menus may be different but the names within them will be the same.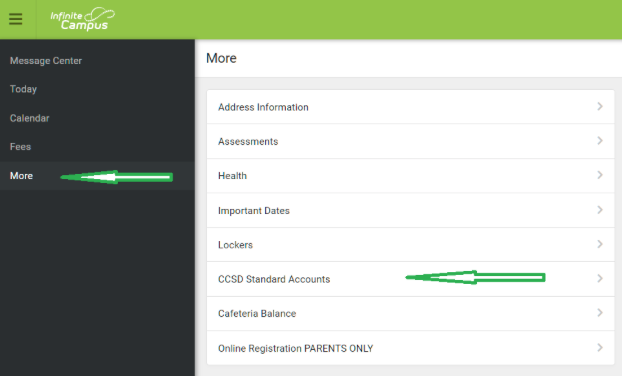 CCSD Systems
Active Directory (on-campus school computer login)
Note: If you get login errors only when logging into some, but not all systems, follow the reset password link above to reset your password. This condition occurs when just a portion of your account may be locked out and a reset will usually fix this by syncing your password across all systems.
Use MyAccount.ccsd.net by choosing the Reset Your Password… button then the Forgot my CCSD Standard UserID button on the next screen.

You can use the Student number to retrieve the email/username.
The Student number can be located in the Campus Parent Portal in the Today menu item on the left side of the screen (Desktop version)
After resetting, allow up to 15 minutes for your password to sync across all systems.
Students – What is my login ID?
Your CCSD Standard User ID, also known as Active Directory username or GoogleID, will allow you to log in and access the following systems: Canvas, Clever, Gmail and Infinite Campus, as well as log on to your school Chromebook device or workstation. Your CCSD Standard User ID is also used to access Windows & Apple computers inside your school.
If you are not sure or don't remember what your username or password is, visit myaccount.ccsd.net.
Students Experiencing Errors/Unable to Reset
Students, if you need assistance logging in, contact your school's Site-based Technician or notify your teacher. If you don't have your school's contact number, it can be located at ccsd.net.
You can also contact the User Support Parent/Student Account Help Desk at 702-799-7678.